Discover the Best Experiences in Alsace with ALSASMARTOURS
Located in eastern France, Alsace is a picturesque region with a rich history and unique culture. Known for its medieval villages, fine wines, and exceptional cuisine, Alsace is a must-visit destination for all travel enthusiasts. If you're planning a visit to this region, here are some of the best experiences to have in Alsace, including the gourmet tour offered by ALSASMARTOURS.
Discover the Alsace Wine Route
The Alsace Wine Route is an unforgettable experience for wine lovers. This 170-kilometer route connects the wine-growing villages of Alsace, offering panoramic views of the vineyards and local wine tastings. The Wine Route is especially beautiful in the autumn when the vine leaves change color, creating a stunning spectacle.
Visit Medieval Villages
Alsace is known for its charming medieval villages, with their colorful half-timbered houses and cobblestone streets. The most famous villages include Riquewihr, Eguisheim, and Ribeauvillé, each with its own charm and history. You can stroll through these villages, visit local museums, churches, and castles, to discover the fascinating history of Alsace.
Taste Alsatian Cuisine
Alsatian cuisine is one of the best in France, with traditional dishes such as sauerkraut, baeckeoffe, and coq au Riesling. Local wines such as Gewurztraminer and Pinot Noir are also renowned. You can discover these exceptional flavors by visiting local restaurants or by participating in a gourmet tour organized by ALSASMARTOURS.
Take a Trip to the Alsace Forest
The Alsace forest is a magical place to relax and recharge in nature. With its hiking trails, waterfalls, and lakes, the forest offers a multitude of activities for all tastes. You can go on a bike ride or hike, or even swim in the lakes during the summer.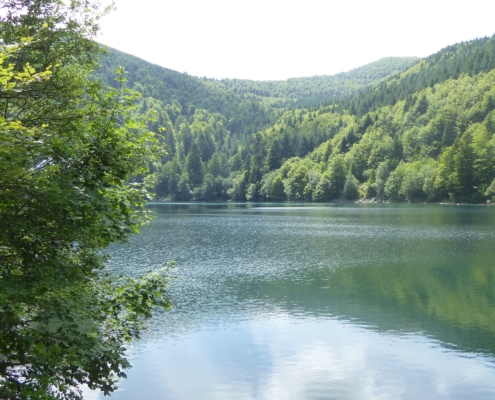 Experience Unique Gastronomy with ALSASMARTOURS
The gourmet tour offered by ALSASMARTOURS is a unique gastronomic experience. You can taste Alsatian specialties in carefully selected restaurants, accompanied by the best local wines. The guides of ALSASMARTOURS will accompany you throughout your journey and introduce you to the traditions of Alsace.